NOW OFFERING SESSIONS VIA SKYPE AS WELL AS IN PURPOSE BUILT LONDON STUDIOS 
"Patrick showed me how to make the most of my potential in the work place, to stop apologising for myself and to be confident with colleagues and the public alike.  Thank you, thank you thank you!" 
" I could not believe it. I simply wasn't nervous. It was absolutely fine. I never thought it could be like that. The sessions have done more than I can say for my confidence."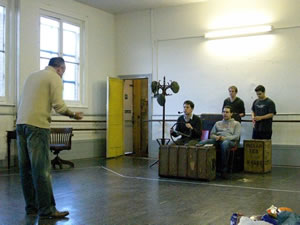 Are you settled in a career structure; looking for opportunities for promotion but feeling that your abilities and talents are not being fully utilised or, perhaps, recognised?
Perhaps you envy the confident way others speak and act. They sound sure of themselves. They can vocally rise to the occasion. People want to listen to them. They are colourful. They have presence.  Do they seem to be as charismatic as TV or film stars?
You could be like them.   You can learn techniques employed by your favourite actors in film and TV.
Patrick is pleased to teach non-actors to utilise the skills and techniques used by professional actors.   Think of your favourite actors, whether film stars or TV regulars, and think about how charismatic they are, how convincing, how compelling, how dynamic.  It seems effortless, yes? But it isn't.
ACTORS TRAIN
They learn to act with great strength.
They learn to speak effectively. 
They learn to be engaging. 
They learn to use their bodies.
They learn vocal technique.
WOULD LEARNING SOME OF THOSE TECHNIQUES HELP YOU IN YOUR WORK?
Do you lack confidence?   Does your vocal ability (being heard, being articulate, being clear)impair you?  Do you worry about not being engaging, interesting or charismatic?  Are your best ideas being stifled because of the tension all this causes you?   By experiencing and learning some simple acting technique all these problems can be improved.
Patrick Wilde can offer one on one coaching in a superb state-of-the-art theatre and studio that will make you aware of your body, breathing and posture in a way you may never have experienced before.  He will show you techniques to improve the way you use your voice to give it power, flexibility and colour.
You will be working physically and get to work on a proper stage.   Actors need to be versatile, to be noticed, to listen, to respond with strength and power.  They need to capture the moment.  They need to be alive in each moment.   They need to make make choices,  about how to stand, to pace what they are saying, to speak softly or loudly.
They also listen, and are consummate communicators, developing levels of focus and concentration they need to do their job.
Patrick will show you how you too can use the techniques they use, so that in any meeting, in any presentation you will be confident, feel in control, know how to listen and communicate with colleagues, but take centre stage when you need to without fear, in absolute belief that is where you belong.
These sessions are competitively priced by the hour, with reductions for block booking in advance.
A day at work will never be the same again.